M. Lee Rice & Joan Develin Coley, Ph.D.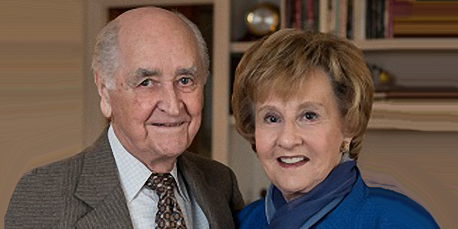 When M. Lee Rice woke up one Tuesday morning last November, he knew he could not put it off any longer. What had begun as a slight pain in his shoulder that summer had gotten worse, to the point that he could barely raise his right arm.
Emergency herniated disc surgery was performed that Friday, and, with the help of physical therapy, Mr. Rice has not had any pain since.
"That morning I thought I'd never again do the things I love," says Mr. Rice. "You don't realize how important something is until it's gone."
Several years before, Mr. Rice and his wife, Joan Develin Coley, Ph.D., were considering a move out of the area. They decided to stay, largely because of Carroll Hospital's sophistication and the valued relationships they had with doctors there.
As it turns out, that was a good thing. "When you are older it is not a trivial thing to change doctors and build a new relationship with a hospital," says Dr. Coley. "It ended up being a blessing that we stayed where we were and took advantage of this fine hospital system that knew us and was very responsive to our needs."
Mr. Rice and Dr. Coley are committed to ensuring Carroll Hospital continues to grow to serve the needs of the community. Dr. Coley volunteers her time, serving on the Carroll Hospital Foundation Board of Trustees. As a board member, Dr. Coley brings with her the expertise and leadership she employed as president of McDaniel College for a decade, before retiring in 2010.
"I think it's important for people to give back when they can to organizations that benefit the community," she says. "Whether it's a hospital or a school, it's as simple as that."
Mr. Rice and Dr. Coley also recently made a significant gift to further express their commitment to Carroll Hospital and the LifeBridge Health family. In turn, the hospital will recognize the couple's long-standing support by naming its main lobby the Rice-Coley Lobby in their honor.
"It is our job as a hospital to provide the very best care in the most patient-friendly way, but it's a proud moment when that care is recognized in such a meaningful gesture as Lee and Joan have done," says Ellen Finnerty Myers, chief development officer and vice president of corporate development.
"Staying put in Carroll County was one of the best decisions we ever made," says Dr. Coley. "And this gift is an acknowledgment of our gratitude."
***
Did you know you can make a gift to Carroll Hospital and get something back?
It's called a charitable gift annuity, a simple contract between you and Carroll Hospital. In exchange for your gift of cash or stock, Carroll Hospital makes regular fixed payments to you, you and your spouse or someone you name, for life.
You get a charitable deduction, above-CD yields and favorable tax treatment of your annuity payments. The remaining principal goes to Carroll Hospital when the contract ends.
Find out more by contacting the Carroll Hospital Foundation at 410-871-6200 or emailing CarrollFoundation@lifebridgehealth.org.