A Day in the Life of a Bridge Builder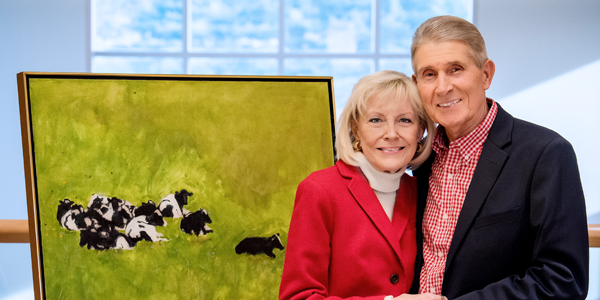 In the decades after World War II, quality health care was hard to find in Germany, according to DiAnn Baum, wife of German immigrant Hans Baum. When he saw the many hospitals and doctors in America, Hans deeply understood the vital impact they have on the community.
"Around the same time Hans immigrated in the early 1960s, my mother was in a very serious car accident and wasn't able to receive the medical care she needed," remembers DiAnn, who is known in the art community as DiAnn Grimes. "We both saw how important it is for a community to have a strong hospital presence, and that idea has stayed with us ever since."
The couple both worked as graphic designers in Washington, D.C., and also pursued their own passions within fine arts-DiAnn as a painter and Hans as a sculptor and photographer. When they retired, they moved to Carroll County.
"My family is from Carroll County," says DiAnn. "And the agriculture and landscapes in the area reminded Hans of his home in Germany. It felt like it was where we belonged. I had grown up here, spending most of my time on my grandparents' farm, which is where I acquired most of the inspiration for my art. Now, I almost exclusively paint scenes from local areas in the county."
Moving to the close-knit community of Carroll Lutheran Village, the Baums were inspired to give back to the community that welcomed them with open arms. Without children of their own to leave their estate to, the couple decided that Carroll Hospital would be the main beneficiary in their will.
"The Baums have written into their will that Carroll Hospital will receive a gift out of their estate," explains Ellen Finnerty Myers, chief development officer for the Carroll Hospital Foundation. "These kinds of donors-we call them Bridge Builders-who incorporate the hospital into their estate planning help provide for our future. It's a legacy gift that enables us to offer great health care for many years to come."
To commemorate this generous gift, Carroll Hospital has named a waiting room in honor of Hans and DiAnn.
"We want to support the future generations of Carroll County," says Hans. "The growth and development of the hospital is so important to the community, and what better heir to our estate than the health of all of our friends and neighbors?"
The dedicated waiting room, located in the outpatient center, honors the couple by displaying pieces of their original artwork. Two paintings and a bronze sculpture are on display for patients to enjoy.
"Being able to not only sponsor the room, but also share our artwork with the community, is absolutely thrilling to us," adds Hans. "Art has been a shared passion of ours since we met, and we're delighted to have it incorporated into our legacy."
The Hans A. and DiAnn Grimes Baum Waiting Room is decorated beautifully with their original artwork. Two of DiAnn's paintings, Buttercream and His Girls, as well as one of Hans' sculptures, A Boy and His Dog, are available in the waiting room for visitors to enjoy.
Did you know you can make a gift to Carroll Hospital and get something back?
It's called a charitable gift annuity, a simple contract between you and Carroll Hospital. In exchange for your gift of cash or stock, Carroll Hospital makes regular fixed payments to you, you and your spouse or someone you name, for life.
You get a charitable deduction, above-CD yields and favorable tax treatment of your annuity payments. The remaining principal goes to Carroll Hospital when the contract ends.
Find out more by contacting the Carroll Hospital Foundation at 410-871-6200 or emailing CarrollFoundation@lifebridgehealth.org.