In Giving, You Receive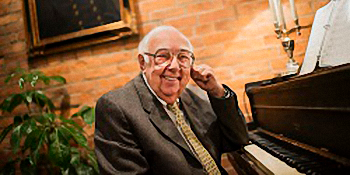 The late Edwin Shauck was a familiar face to many in the community.
Some have been entertained by his beautiful piano solos at Antrim 1844, while others remember him as the former executive vice president of Carroll County Bank & Trust (now BB&T).
Carroll Hospital had the pleasure of knowing Mr. Shauck as a staunch supporter of the organization through his service as the past leader of several boards and committees and the former chairman of the board of directors (1980-1982).
Current and future generations who never met Mr. Shauck will benefit from the generosity of his charitable gift annuity.
Mr. Shauck was grateful that his position and good fortune allowed him to give back to the community through his contributions to the hospital. He did so in memory of his wife, Mary Jane, to whom he was married for 61 years until she passed away in 2010.
The couple met on a blind date while she was attending Western Maryland College (now McDaniel College). After they married, the Shaucks built their life in Westminster, raising their daughter just down the road from the hospital. Mr. Shauck enjoyed being in close contact and proximity to his family, which included his loving daughter, granddaughter and great-granddaughter.
In addition to his family, music always played an important role in Mr. Shauck's life. As a teen, he played with local dance bands and had even considered becoming a professional musician.
If you had the chance to hear Mr. Shauck play Gershwin or his other favorites while dining at Antrim 1844, you were in good company. He once met Newt and Calista Gingrich while playing there. Mrs. Gingrich told him he was a great player and asked, "What is your background?" Mr. Shauck replied, "Oh, I'm just an old country banker."
***
Did you know you can make a gift to Carroll Hospital and get something back?
It's called a charitable gift annuity, a simple contract between you and Carroll Hospital. In exchange for your gift of cash or stock, Carroll Hospital makes regular fixed payments to you, you and your spouse or someone you name, for life.
You get a charitable deduction, above-CD yields and favorable tax treatment of your annuity payments. The remaining principal goes to Carroll Hospital when the contract ends.
Find out more by contacting the Carroll Hospital Foundation at 410-871-6200 or emailing [email protected].